Podcast: Play in new window | Download
Interview With Psychic Medium Katharine Branham
Terry and Tom are back with another exciting episode and exciting guest – psychic medium Katharine Branham. Katharine is an award-winning bestselling author along with being a world-renowned free-flowing psychic medium. She has conducted over fifty thousand client readings. In 2021, she published her first book "How I Found My Superpowers". "How I Found My Superpowers" guides the reader through a twisting path of adventures as she learns to accept her gifts and encounters different spiritual avatars along the way.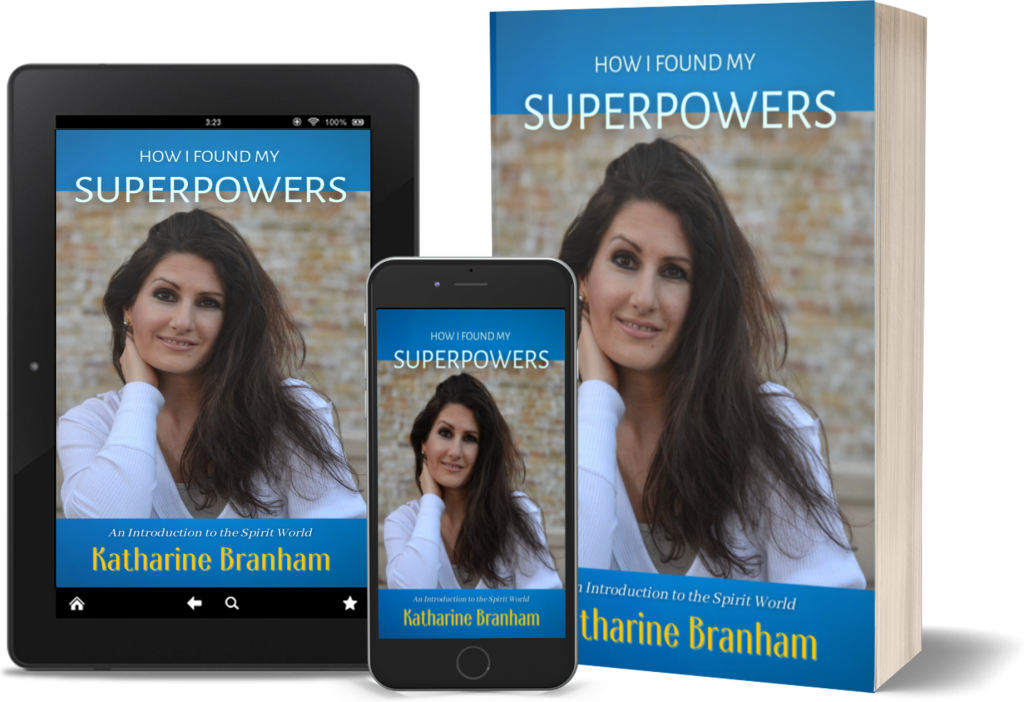 Books by Katharine Branham
Katharine Branham has dubbed herself the "Self Help Slut" – which is also the name of her workbook. It is about releasing judgment – of not just yourself but others. Releasing judgment of self is one of the biggest challenges that people struggle with. In this series of workbooks, the reader learns how to clear their energy field from a lifetime of self-sabotage, including judgment and the negative influences of others.
In addition, Katharine is also the author of "Nobody Knew It Was Murder", her newest book takes you down a dark path of short stories where she encountered wronged spirits of murder victims telling her the truth that nobody knew…
About Katharine Branham
Since early childhood, Katharine possessed a strong ethereal nexus with the spiritual realm and heightened sensitivity and empathy to the physical and emotional pain of humans as well as animals.  She began to notice upon an encounter with someone beset with a physical ailment, the ailment caused me discomfort within the same area as the person that she had tuned into.  Along with sensing energies and seeing auras, she began tuning into angelic spiritual beings and spirits of those who had crossed over.
Her Sessions As a Psychic Medium
When she is with clients, Katharine uses the powers of Clairaudience, Clairvoyance, Open Channel, and remote viewing. As a medical intuit, a preponderance of her focus and faculty is often on the physical body and its attendant energy field. When Katharine tunes into a client, she is able to hear their Spirit Guides and Angels. She then parrots the information that they are saying by relaying the words to the client as they are being said.
She reads conceptions to death with looking at the client's life plan. Additionally, Katharine will make suggestions to improve their life by channeling what they need to achieve the best life possible. Her clients will be able to get an audio recording of their sessions as well as a folder of automatic writing, a body chart, and a follow up – all tools to help them along in their spiritual journey. To learn more about Katharine and how to book a session, visit her website through the links below.
Katharine Branham Website and Social Media
Website: https://psychickatharinebranham.com
Facebook: https://www.facebook.com/109245481345767
Instagram: https://www.instagram.com/psychickatharinebranham
LinkedIn: https://www.linkedin.com/in/katharinebranham/
TikTok: https://www.tiktok.com/@psychickatharinebranham
Twitch TV: https://www.twitch.tv/katharinebranham
Twitter: https://www.twitter.com/psychickb
YouTube: https://www.youtube.com/channel/UCGqOgb3fjIjcnGLvWoMqAAQ
About The Metaphysical Mysteries
The Metaphysical Mysteries Podcast is the "go-to" place for everything metaphysical. We feature guests such as researchers, doctors, authors, scientists, and practitioners. Each episode also offers high-quality research about metaphysical topics. Interested in becoming a featured guest on The Metaphysical Mysteries Podcast? Register to become a guest here!